Last Updated on May 25, 2023
What a year it's been! We're so thankful you're on the mindful drinking journey with us. As 2021 winds down and we look ahead to the new year, we're feeling more optimistic than ever about our mission to help anyone who drinks get the most out of life — by being more mindful about their alcohol consumption. It's hard to believe this was our first full year since launching in October of 2020. We're just getting started!
We've made incredible progress this year, and have learned so much from the tens of thousands of members we work with every day. Before we get to the big news, a few highlights from year one: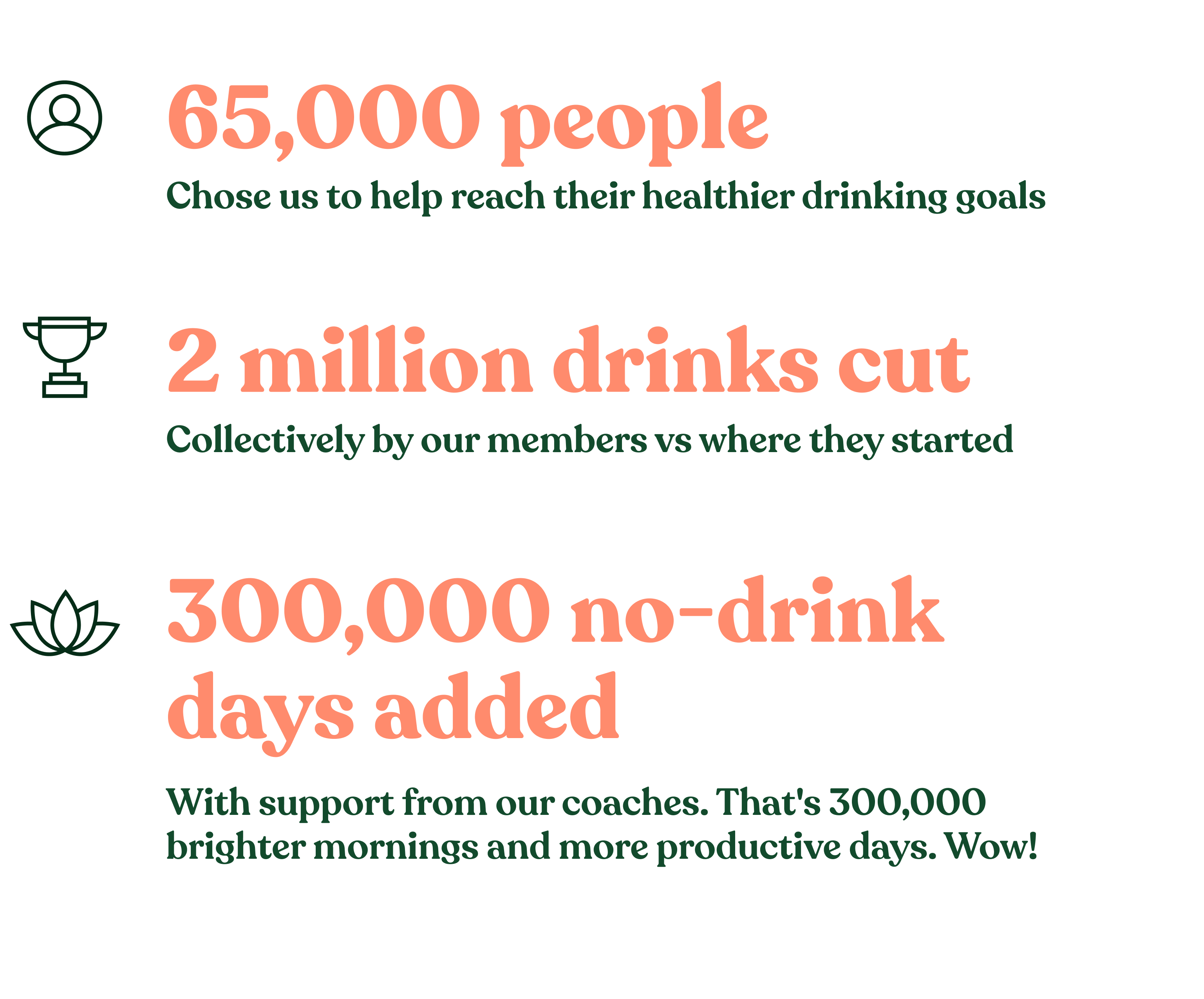 Our members know better than anyone that a more intentional approach to drinking is one of the best investments we can make in improving our overall health and well-being. Now, it's our job to help more of the world come to this realization.
We're building a future in which proactively managing our alcohol consumption is as common (and socially accepted) as managing diet and exercise — an integral part of our holistic wellness toolkits.
To help ease the way for millions more to join the mindful drinking movement in 2022 and beyond, today we're sharing some exciting news:
Here's why we made the change
The Sunnyside brand crystalizes our worldview as the positive approach to healthier drinking.
Some people think that cutting back on drinking is all about having less. But at Sunnyside, we're all about having more. More rested mornings, more days when you're feeling your absolute best, more energy and optimism. We're not here to say "don't go out" or "never drink." We're here to help you to enjoy your life and wake up ready to shine your brightest.
The rebrand to Sunnyside is the culmination of a year's worth of research and in-depth conversations with current and prospective members. What we've learned is that people don't want to feel judged about their drinking, they want to focus on the many benefits of more intentional consumption.
Sunnyside opens the doors for many more people to start proactively managing their drinking, and it gives us a new avenue to welcome them with warmth and open arms.
The Sunnyside approach to healthier drinking
We're changing the conversation around alcohol health from negative, somber and reactive to positive, friendly and proactive. Here's what that means for the Sunnyside experience: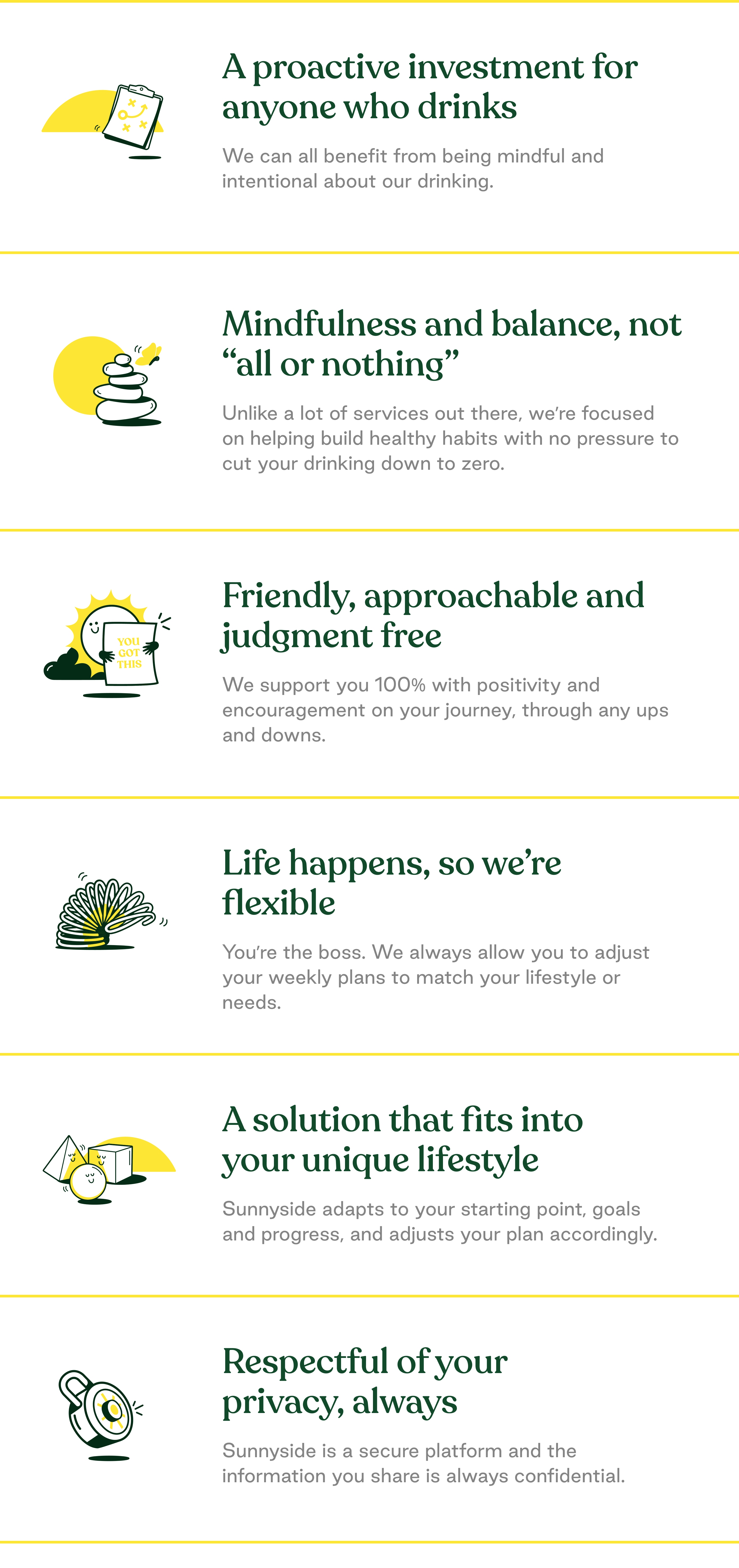 Looking forward to what comes next in 2022
Sunnyside gives us a new launch point to bring mindful drinking to the tens of millions of people around the world who enjoy drinking and have no desire to quit, but who could benefit from more mindful habits around their consumption.
Things will only get better from here, as we invest in the areas we know our members are most excited about:
More insights about drinking patterns, progress and milestones
More proactive, personalized coaching through the natural ups and downs along the way
More interactive content to help you explore your habits, and make changes to help you reach your goals
More chances to connect with others on the mindful drinking journey
We've built solid foundations this year, and couldn't be more excited for what 2022 holds.
This will be the year mindful drinking reaches the mainstream, and Sunnyside will be at the forefront of the movement. We can't wait to make it happen, with the help of members and supporters like you.
On behalf of all of us here at Sunnyside, thank you for being with us. Here's to an incredible new year!

Nick & Ian
Sunnyside Co-founders