Last Updated on May 19, 2023
We're always on the lookout for unique non-alcoholic alternatives. While there are plenty that sort of end up like a sugary soda, every now and then we stumble upon brands like Ferm Fatale that are doing something truly unique.
Ferm Fatale creates "probiotic mocktails" that are "non-alcoholic social beverages filled with bacteria, yeast, enzymes, vitamins and antioxidants that support a healthy digestive system."
As a big kombucha drinker, this seemed right up my alley, so I gave it a shot by buying the sampler pack. My favorite was the Nojito that's made from:
100% organic kombucha
organic lime juice
organic essence of mint and monk fruit
The drink is super refreshing with a great balance of sweet and bitter. Although it's intended as a sort of adult social beverage (the packaging and bottles definitely fit the bill), I could easily see these as a tasty kombucha alternative since they also have lots of gut health properties to them.
I've been impressed with how quickly Ferm Fatale has seemed to grow (I see them everywhere now), so I got in touch with founder Julie Cielo to learn more about her story and the how Ferm Fatale came to be: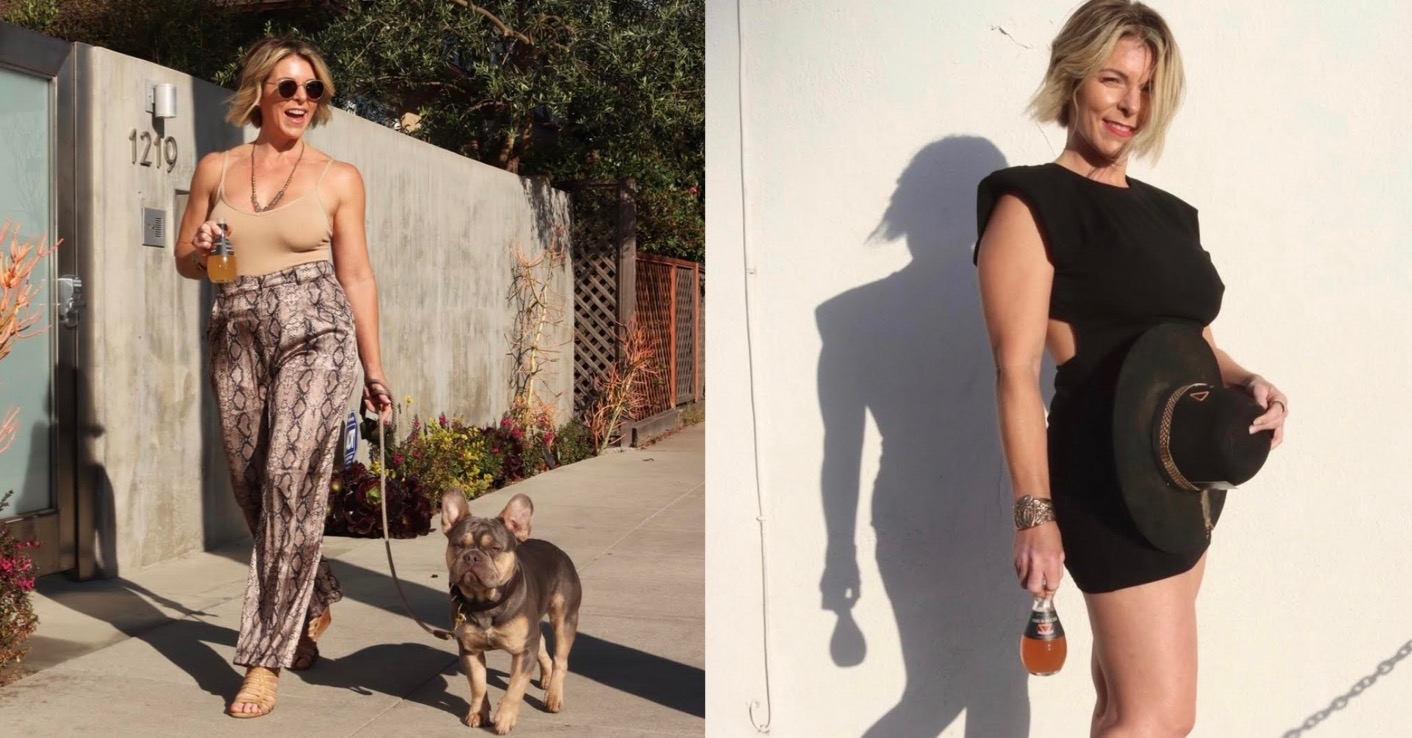 What was the inspiration and learning process behind combining Shrub and Kombucha to create your mocktails?
I have been formulating the Shrub-Bucha recipes since having my own production facility back in 2015 with a team of food scientist, wine maker, beer brewer and kombucha home brewer aficionado + myself resulted in a reformulation after running out of capital after my first round of funding. I had a few years to think about what I thought the market was going to want and raise $1.5M. It made sense to me as a foodie passionate about gut health and fermentation, aspiring to not want or need to drink alcohol to not want to give up on the idea that surfaced in 2014 during a discovery circle with a couple high level digital marketing consultants. The company was actually inspired by a period of time when I was really sick in my 20's when I couldn't drink and was let down by western medicine with my so-called autoimmune mystery symptoms like blurred vision, hypoglycemia, extreme stomach cramps and bloating when I ate just about anything. I was also let down by my peers, including my husband at the time who was beginning to show signs of alcoholism like the father I never had also suffered from.
The inspiration to combine shrub and kombucha came from stories my grandfather 1st generation Italian (*Calabrian) used to tell about the peasants in the field drinking vinegar based drinks in the summer to keep themselves cool. Our shrub is made from fruit aged 6 months into vinegar then sweetened with monk fruit (*the sweetest fruit in the world) and then mixed with fresh young kombucha. We love creating classic cocktail flavors that are sugar free, good-for-your-gut social beverages–a term I coined on stage at BevNet Showdown 2015. All of our products are certified organic.
What's your personal relationship to alcohol and was Ferm Fatale a direct response to seeking balance and a more mindful approach to drinking?
Thanks so much for asking. I don't talk much about this often. After leaving my alcohol dependent husband and moving to LA with no job, car, apartment, friends, or career in 2012, I leaned into alcohol in my 30's and early 40's as a single woman alone for the first time in my adult life. I finally hit a wall of realization…alcohol was NOT serving me any longer for several reasons. I made so many excuses including blaming the stress of creating a startup, until I remembered my WHY! I didn't need one more reason to be tired, bloated, inflamed, anxious, regretful, and shame filled. I've continued to 'Live Clean" and meditate throughout but this one the piece that made my life puzzle begin to really align. We all have small behavior changes that have the opportunity to create big energetic shifts. I didn't drink 'a ton' to the overly normalized society of alcohol dependent, enabling brainwashing. 55 days ago had a major personal paradigm shift and gave up alcohol after meeting my new guru in Mexico and fully realizing my purpose.
What is your favorite mindful drinking tip you would recommend to our members?
I love pouring our classic cocktail flavors into their corresponding glasses, perhaps salting the rim, adding fun fruit ice and extra fresh lime and mint but making it about the ritual. I love giving myself and others the reward of my presence, discernment, and genuine connection, able to feel my feelings, be a better listener and not forget precious time spent. I think it's about enjoying your life as a non-drinker and creating new ways of being that support you having the life you love living without just following the crowd and spending all your money just to feel like shit.
What do your fans love most about Ferm Fatale's products?
Our reviews speak for themselves! Fans love the flavors, packaging, and how it makes them feel! Our products were designed to be alcohol replacements so they are used as such but also people use them for a tonic to cleanse and heal with our 7 day cleanse. The feedback about my recipes, lives, and digital course support those that are looking to cut back or quit and might suffer from autoimmune disease, hormone imbalances, anxiety desiring to lose weight, bloating, skin issues. Further on, they see how excavating their subconscious while also helping their gut is a progressive step towards addressing their own gut-brain connection. Taking it further to the spiritual heart while shining the light on how climate change relates to our consciousness. I would hope that folks love our high vibe products because we support genuine Oneness, not some 'un-kool aid' wannabe superficial cult mentality that only breeds more separation.
Want to try Ferm Fatale?
Ferm Fatale has been kind enough to offer 20% off any of their products, including their probiotic mocktails, probiotic tonic waters, cleanse or new digital course. Just use promo code SUNNYSIDE20 at checkout.